Do you drive something really small?  Maybe a Mini Cooper, SmartCar, Motorcycle or even an ATV.
Here is an idea for a trailer to expand your hauling capacity when needed and is quickly converted into a tent topped camping trailer.
Start with a Harbor Freight 55″ x 35″ box trailer.  They are about 180 lbs and $350, although with the readily available 20% off coupon it would be $280.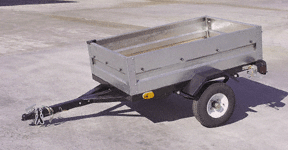 Then add an Oasis II  folding tent unit for overnight away from home adventures. They weight 50 lbs and are $815.
You would be hard pressed to find a more versatile multi-purpose camping trailer solution that's new, only weighs 230 lbs and is under $1100.
Happy Camping!